DocuForms' innovative forms help Podiatrists build their practices, earn more and keep more of what they earn.
We can help you, too!
---
When a DocuForm is filled out completely, nothing falls through the cracks. I know. I've reviewed them. — Harry Goldsmith, CEO Codingline, Reviewer for Medicare and fifteen private insurance companies. January 17, 2004, Codingline Seminar, Oakland,CA.
---
DocuForms' Innovative Forms
You'll also learn about forms that get your relationship with your patients going in the right direction, and forms that increase the amount of referrals you receive from other doctors by informing them of the range of treatments you offer.
As you'll see, our exam forms are structured to allow you to document the treatments you provide more quickly and more accurately — and at far lower cost than transcribed notes.
---
Patient Financial/Insurance Form (POD-1010)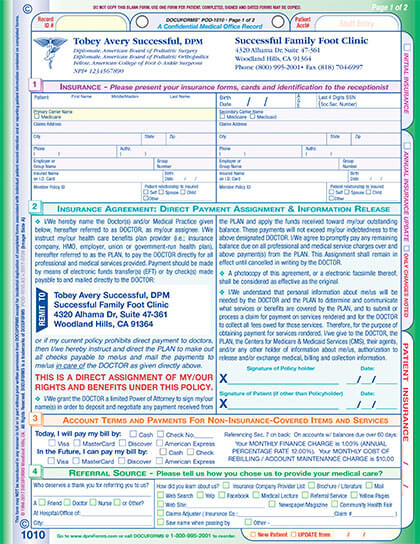 This personalized form collects all of the essential information for billing and collection purposes and it documents authorizations that are required before you can legally treat any patient.
---
Patient History Form (POD-2010)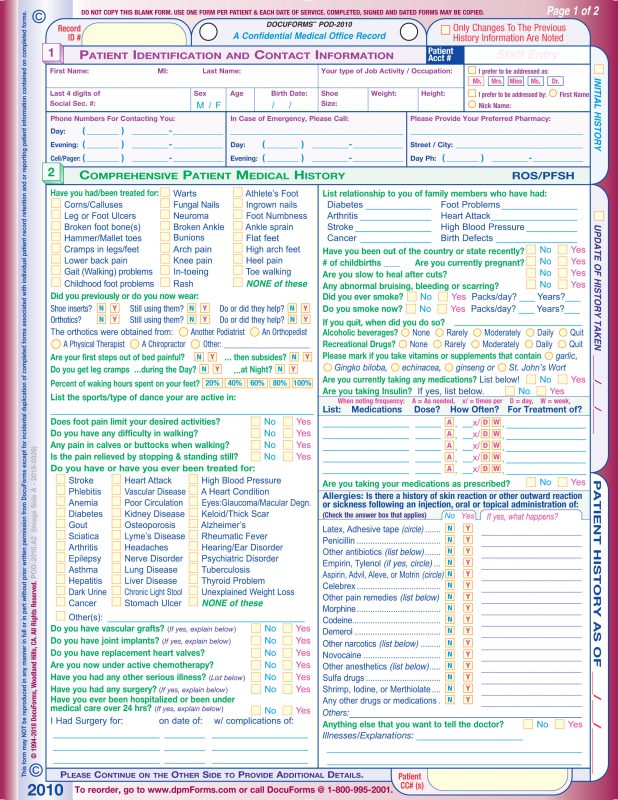 This podiatric Patient History form may be used with both new and returning patients to annually update your records so as to bring or keep your charts up to current documentation standards.
---
Patient Physical Exam Form (POD-2020)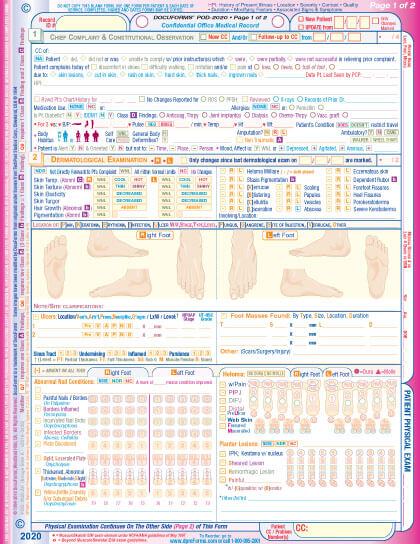 The 2020 is so quick and easy to complete that you can choose to more extensive exams without fear of substantially increasing your documentation time requirements.
This Patient Physical Exam is the form of choice whenever you need to document an extended, detailed podiatric exam such as pre-surgical exams, cases that involve complex etiology or patients with a past medical history that alerts you to be extra thorough.
---
Podiatric Services Report Form (POD-3030)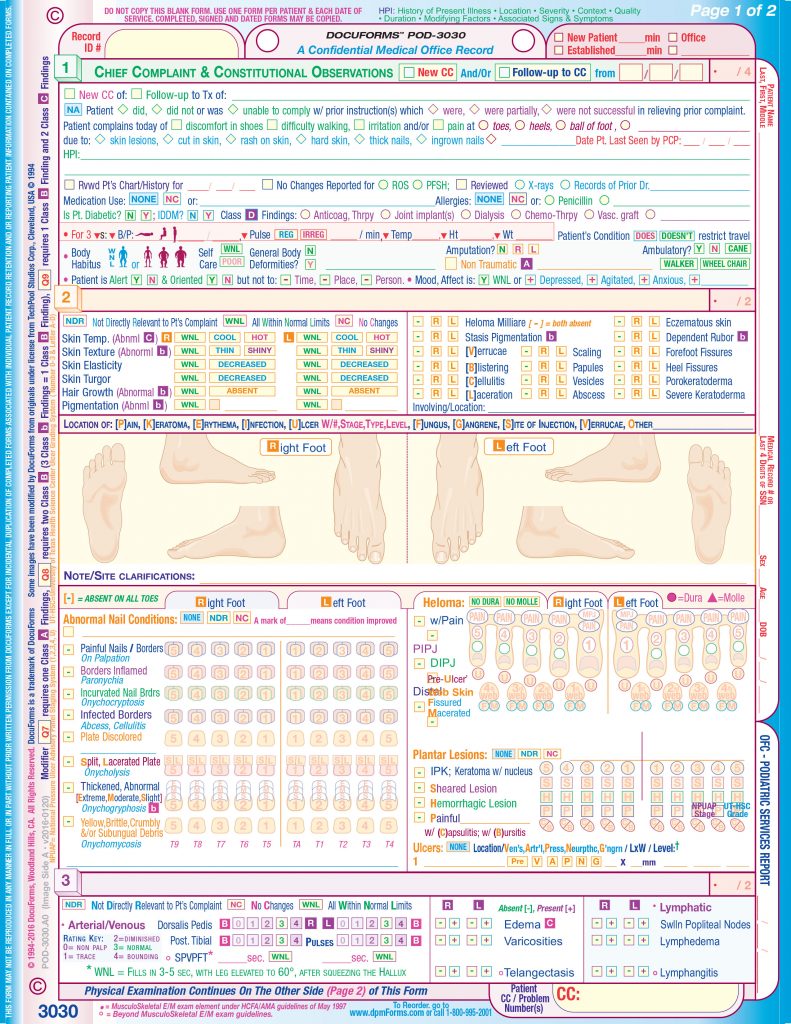 This form eliminates the majority of handwritten, dictated or computer generated notes! Using the DocuForms Podiatric Services Report, you will find that you can now keep your charts current in a fraction of the time and costs of other charting systems.
---
Podiatric 3-visit Skin/Nail Care Follow-up Form (POD-3040)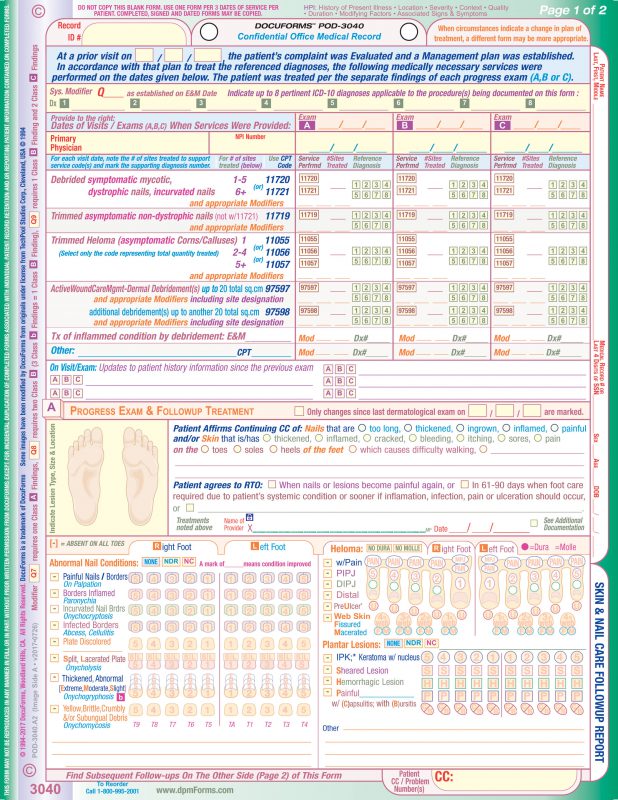 This form allows you to easily document three visits on a single form. For only a few pennies per visit you can fully document your medically necessary at-risk-routine-care follow-up and billing.
The coding information for billing three follow-up visits is conveniently located on the front of the form.
---
General Nursing Home Form (POD-4030)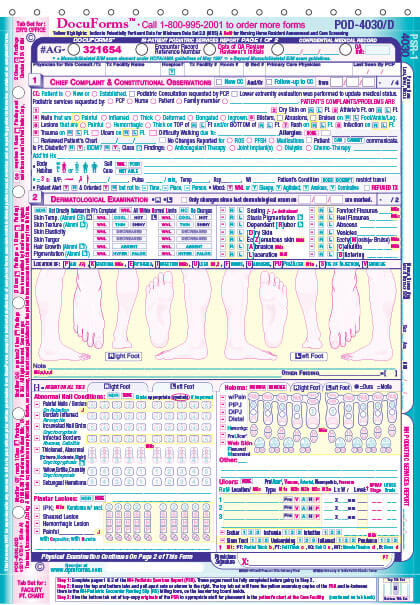 Podiatric groups of all sizes have standardized on the DocuForms Nursing Home Report to create the detailed billing information plus the required supporting clinical documentation with the necessary key points, phrases and terms to comply with the latest Medicare HCFA/AMA guidelines. With the POD-4030 you accomplish all this in less time and at lower cost than ever before.
By using the POD-4030 you will likely never again leave out any of the information required to pass an audit and avoid costly paybacks.
This two-part carbonless form automatically creates original chart notes for the Facility and duplicate copies for your office. It is designed to facilitate same-day completion chart documentation and billing.
---
General S.O.A.P. Report Form (POD-3010)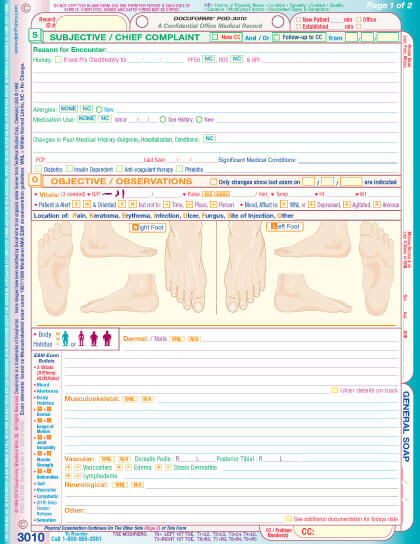 The podiatric General SOAP Note is
ideal for standalone use in limited, problem-focused situations, or to be used together with any DocuForms Exam form. This form may be appropriate when seeing new or established patients and may often be used for follow-up visits.
It easily guides you through the S-O-A-P format. It prompts and provides spaces for you to reference dates of prior records helping you maintain your historical trail of documentation.
This easily completed form gives you the most freedom, but still reduces writing to save you time and dictation costs.
---
Podiatric Referral Pads (POD-7030)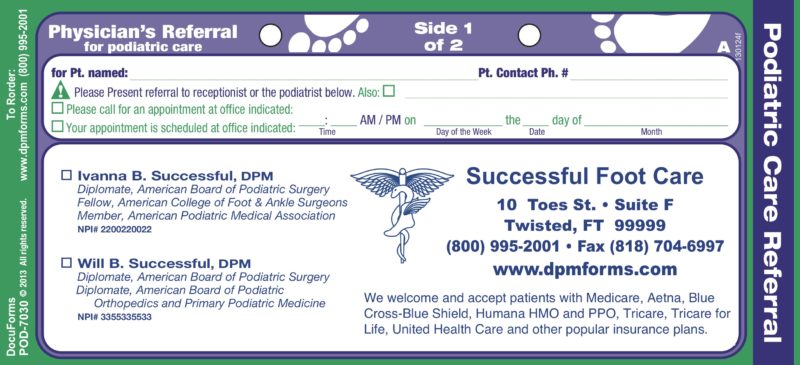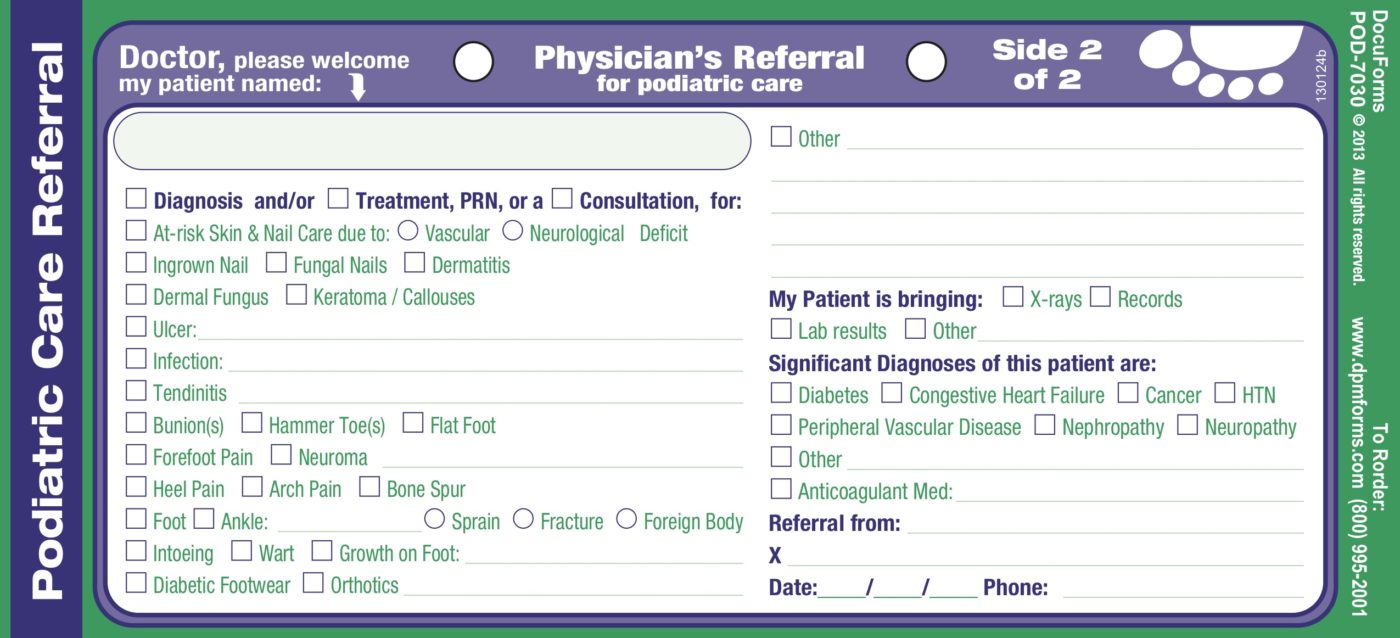 PCPs in your community see hundreds of patients each week, many with lower extremity complaints that you're best qualified to treat.
If only you could initially educate and constantly remind these doctors fo the fact and make it convenient for their patients and easy for them to refer these problems to you, then they would.
Now you can with your custom personalized pocket-sized DocuForms pediatric referral form pads.