Are you frustrated by electronic record systems?
You have come to the right place.
DocuForms can help you using a tried and true system of documentation that has served hundreds and hundreds of podiatrists for over 25 years. Over many years, our comprehensive forms helped Podiatrists build their practices, earn more and keep more of what they earn.
All of our forms are double-sided offering an excellent way across 2 pages to record your encounters. They are easily scanned to incorporate them into a medical records system. A pen and paper system is much more manageable to use during a patient encounter than a computer screen. The are color-coded on the borders to make it easier to find what you are looking for in a physical medical chart, if you still maintain a backup system to electronic records.
Electronic records may be good for sharing information, but a physical chart may be easier to work with when encountering returning patients.
Our forms address the Medicare requirements for documenting podiatric services and medical necessity. By indicating the "bulleted" components of each system, they prompt you to record the level of detail for each exam element as required by Medicare's 1997 Documentation Guidelines. Where provided on a form, our "bulleted" indicators allow you to quickly assess your level of E&M for a visit.
Save money using multiple forms.
We offer mix-and-match pricing for quantity price breaks on most forms making it more economical to use the right form in different situations.
Podiatric Services Report
The most useful and commonly used form is the Podiatric Services Report, a.k.a. the POD-3030. It serves as a complete S.O.A.P. note for most of your podiatric patient encounters.
This 2-page form eliminates the majority of handwritten, dictated or computer generated notes! You will find that you can now keep your charts current in a fraction of the time and costs of other charting systems.
For Initial Patient Encounters, you will want to have the patient complete the Patient History and Complaint form a.k.a. the the POD-2010. At the same time, a patient should fill out a Patient Financial/Insurance form a.k.a. the POD-1010.
Skin and Nail Care Followup Report
For many podiatrists, a substantial portion of their patients come in for what has been called At-Risk Footcare involving skin and nail care procedures. After the initial encounter on the POD-3030, monthly followup encounters to the initial visit only involve noting changes to the patient condition and/or plan plan what procedures were done to implement the plan.
This 2-page companion form to the POD-3030 allows documenting three followup visits and has a billing-instructions portion to bill for three visits for efficiency and convenience. There is no need to complete a full Podiatric Services Report for followup visits.
After three followup visits, it may be necessary to re-evaluate your assessment and plan by completing a new POD-3030 form on the next patient encounter for the complaint.
UniversalEncounter
Billing Instructions Sheet
Completing your billing instructions contemporaneously with a patient encounter is a best practice. Our UniversalEncounter form, a.k.a. POD-UE2022, is an easy way to do billing because most of the codes that you need are readily available.
You know how important it is to keep a Superbill up to date. Keeping your Superbill current on your own requires a lot of hard work. 
Many electronic systems don't offer an easy way to review all the codes you might need to consider.
Podiatry uses a lot of codes and we have managed to put a great majority of them on this 2-page form so that you don't need to go to books to look them up when you need them. CPT, ICD-10 and HCPCS coding that you need are there, ready for you to write down.
Everything from palliative skin and nail care to complex rear-foot surgical procedures is covered in the DocuForms UniversalEncounter. 
Podiatrists report as much as a twenty percent increase in revenue because this Superbill allows them to code accurately and correctly for all the services they have provided.
Sometimes you might need the more comprehensive Patient Physical Exam, a.k.a. the POD-2020. This is the form of choice whenever you need to document an extended, detailed podiatric exam such as pre-surgical exams, cases that involve complex etiology or patients with a past medical history that alerts you to be extra thorough. 
Due to the extensensive Objective section, this form does not have Assement and Plan  sections for a complete S.O.A.P. chart note. To complete a SOAP note, many podiatrists will use the General SOAP Note a.k.a. the POD-3010, using just the Assessment and Plan sections. On each form you would reference the other form to complete the patient record and make audits easier.
Whether you choose to use the POD-3030 or the POD-2020, each form addresses the Medicare requirements for documenting podiatric services and medical necessity. By indicating the "bulleted" components of each system, both prompt you to record the level of detail for each exam element as required by the '97 Documentation Guidelines.
For those podiatrists who prefer a more open format and need or want to write more, we offer the General SOAP a.k.a. the POD-3010. This form has minimal graphics and uses fewer check-off boxes. It easily guides you through all four Subjective, Objective, Assessment and Plan sections.
It is ideal for standlone use in limited, problem-focused situations, or to be used together with any DocuForms exam form. This form may be appropriate when seeing new or established patients and may often be used for follow-up visits.
The form prompts and provides spaces to reference dates of prior records to maintain your historical trail of documentation.
You are prompted for ROS, PFSH and History of Present Illness (HPI). HPI elements are listed at the top edge of the form.
The physical findings section includes a list of 19 possible Medicare Bullets/Exam Elements under the 1997 Medicare/AMA documentation guidelines.
Nursing Home Services Report
Built on the format of the Podiatric Services Report, this form, the Nursing Home Services Report, aka POD-4030/D, is more specific to the types of podiatric health issues expected to be encountered in a Nursing Home or Home care setting. It is a complete S.O.A.P. note and provides NCR duplicate copies for you to take back to your office for reference in eventual audits.Generate better-detailed charts that firmly support your billing.
Protect yourself from audits by Medicare, and from claims of fraud and abuse.
Reduce your time spent on documentation.
Minimize your cost of documentation.
Feel secure about compliance with the latest documentation requirements.
Be recognized for all the services you provide and actually get paid for them.
Nursing homes are required to report to Medicare and state regulatory authorities, as often as weekly, a complex and lengthy structured patient assessment. This data, called the Minimum Data Set, is used in part to determine the variable level of reimbursement which the nursing home will receive for the patient's care, and monitor that the patient is receiving the necessary ongoing care.
With the addition of MDS data, the POD-4030 has become the preferred method of chart documentation for many nursing homes. Podiatrists who use the 4030 get a real competitive advantage over those who submit traditional documentation.
This form is part of taking in new patients. It collects from the patient a comprehensive history that optimizes what E&M code you can charge. It establishes a baseline of the patient's health when they come into your medical practice.
Your patients won't have a lot to write with this form. In most cases they can just check off the pertinent information. It collects up to two initial complaints.
Importantly, when you have a patient who needs assistance filling out this form, your staff won't have to devote lots of valuable time helping out.
The comprehensive history gathered on this form will allow you to bill for even the highest level E&M code (in any setting) when justified.
Patient Financial/Insurance
The essential information you must collect, and the agreements you must have in place, before accepting new patients into your practice. 
As you know, you need to have a carefully constructed financial agreement with your patients. DocuForms provides just what you need with the POD-1010 Financial / Insurance form.
We've developed and refined this financial agreement for over a decade. It covers just about every payment situation you will encounter in your practice. It makes sure that the patients agree to pay their deductibles, co-payments and non-covered services at the time of treatment.
This form contains a strong payment agreement that gives you the tools you need to collect payment. State medical regulating boards and many managed care organizations insist that you have just such an agreement in place.
Why write something out when using diagrams is clearer, faster and easier?
The Dermal Views Worksheet, a.k.a. the POD-2050 can be an important part of patient education. When doing a pre-op consult it is often helpful to use a diagram so the patient can comprehend what the surgery will entail and this form will allow you to document that the patient understands where and what services you intend to perform.
These are just a few uses for this multipurpose worksheet in your practice:
Patient Education / Screenings
Surgical Consents
Medical Records
We also offer a similar worksheet for Skeletal procedures, the POD-2060.
Skeletal Worksheet/Consent
Like the Dermal Worksheet, our Skeletal Ft. Views Worksheet, a.k.a. the POD-2060, can also be an important part of patient education.
These are just a few uses for this multipurpose worksheet in your practice:
Patient Education / Screenings
Surgical Consents
Medical Records
When doing your pre-op consult, it is often helpful to use one or more diagrams to show what the surgery will entail so the patient can comprehend and this form will allow you to document that the patient understands where and what services you intend to perform. We also offer Worksheet for dermal procedures, the POD-2050.
Complaints of heel-pain, which often represents 20% of the complaints encountered in a typical podiatric practice, can be easily documented without use of lengthy dictation.
The Heel Pain Report, a.k.a. POD-3070, is an initial evaluation form that can be used:
When a new patient or established patient presents with a new problem of heel pain.
When there is a recurrence of heel pain.
To reassess and develop a new treatment plan because the patient is not progressing as anticipated.
The Heel Pain Report form presents the questions that podiatrists typically ask, so a patient's replies can be quickly noted.
For new patients you will also want to use the Patient History, POD-2010, and you may also want to use the Podiatric Physical Exam, POD-2020, or the Podiatric Services Report, POD-3030, to get a better understanding of the context of the patient's problem.
For follow-up visits, we recommend the 2-Visit Heal Pain Follow Up Report, a.k.a. POD-3080.
2-visit Heal Pain FollowUp Report
This 2-visit Heel Pain Follow-up Report, a.k.a. POD-3080, is for documenting follow-up treatment to heel pain care initially documented on a POD-3070.
When you have patients return for followup on heal pain diagnosis and treatment, you don't don't need to do a full E&M so we offer the POD-3080.
Use one side for each followup visit. This saves room in  the physical chart and makes chronological review easier.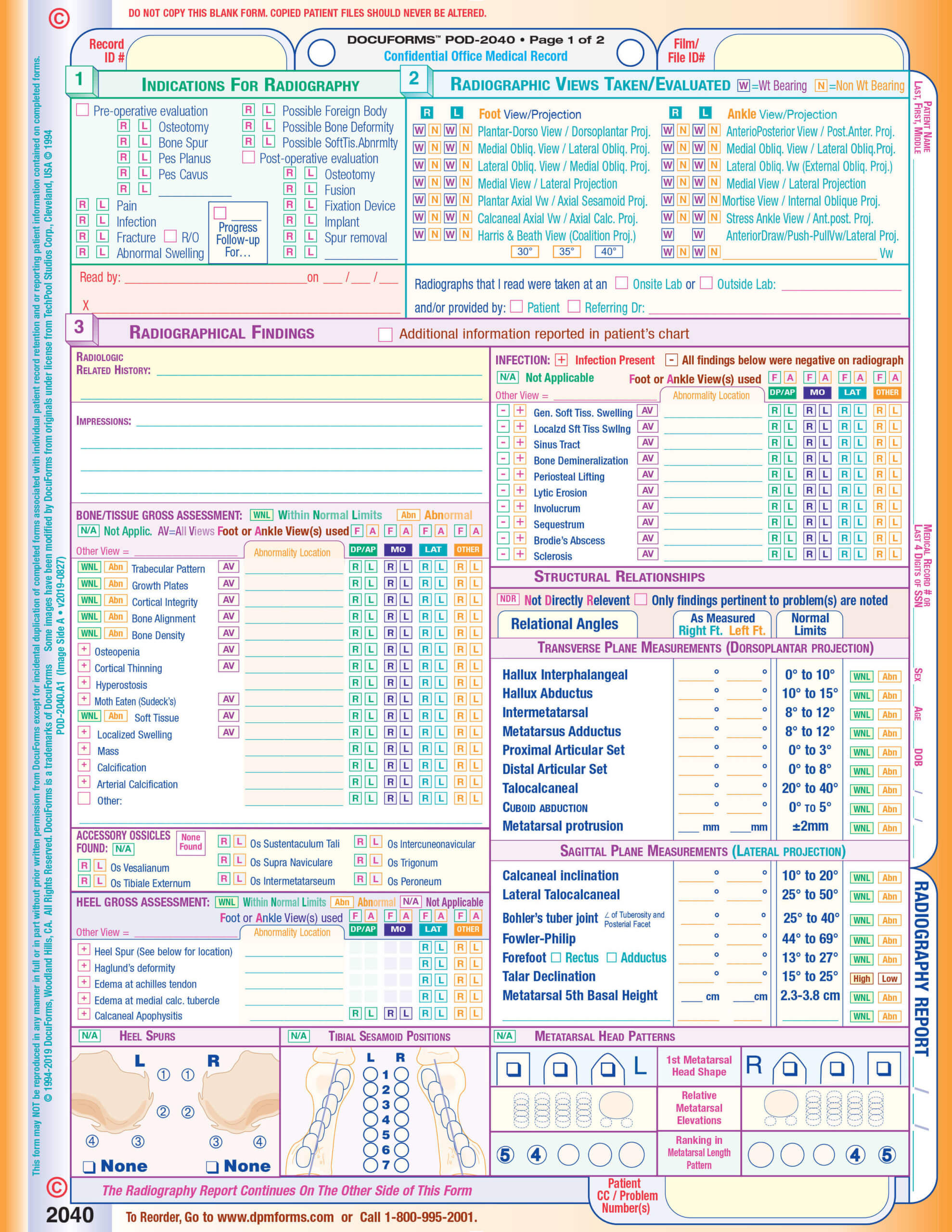 Pricing starts at $65 for 1 package of 250 forms.
For those podiatrist who still read their own radiographs of various types, this form makes it much easier to quickly record the conditions of the test and the observed conditions.
Our Radiography Report, a.k.a. POD-2040, allows you to create quality reports that are detailed and complete in a fraction of the time and cost of doing narrative style or computer generated notes. It enables easy use of cumbersome words and biomechanical language.
While it make look complex, in reality only small portions of the form are necessary in any one situation. The Radiography Report can be supplemented with the Skeletal Worksheet, the POD-2060, to depict what was observed.
In the findings section you briefly state any related history and then make a gross assessment of the quality of the bones in the x-rays, if you wish. You then quickly move on to note all of your pertinent positive and negative findings in the appropriate section(s).
The POD-2040 provides, for your reference, many normal angles, sesamoid positions, and it reminds you of all the findings you may need to consider. If it is present on All Views, you can quickly denote this just by a check mark.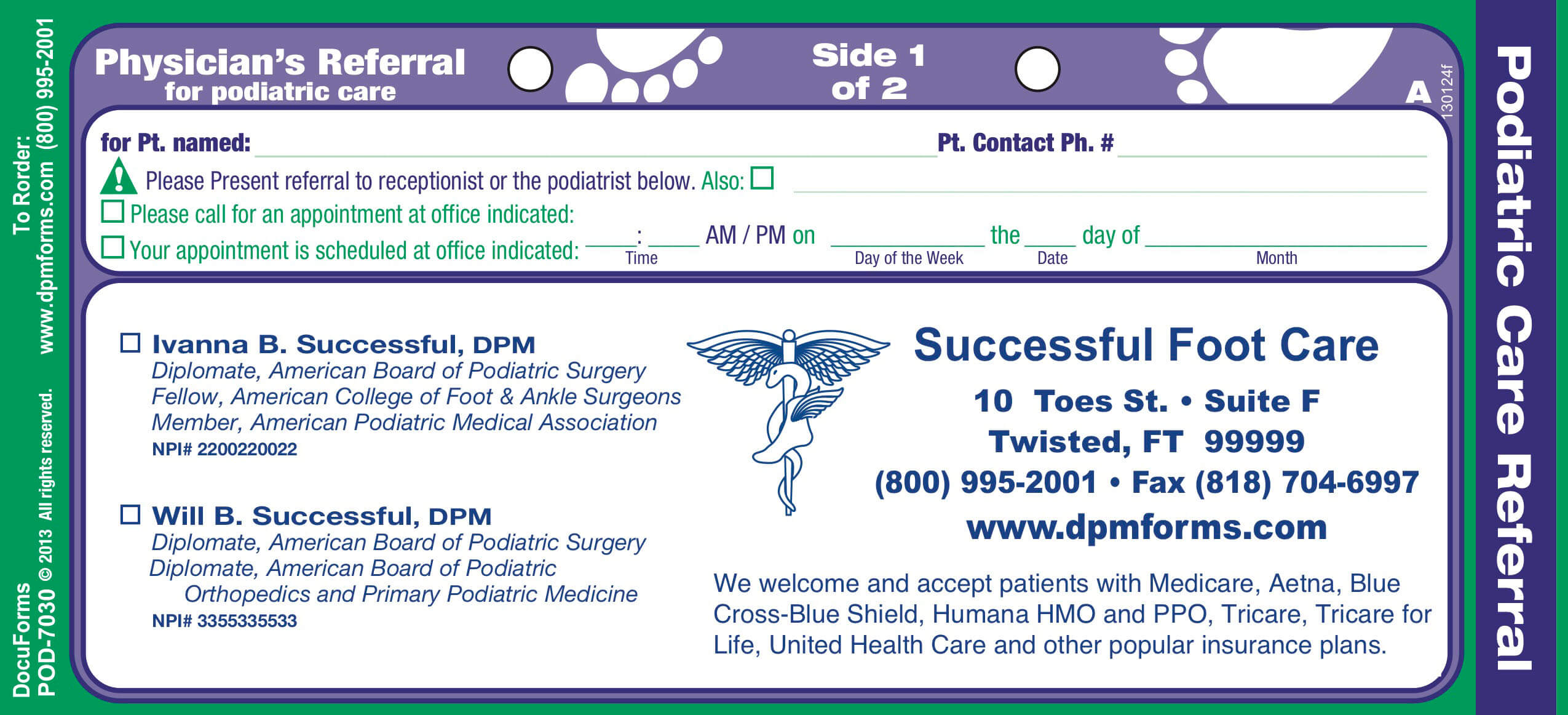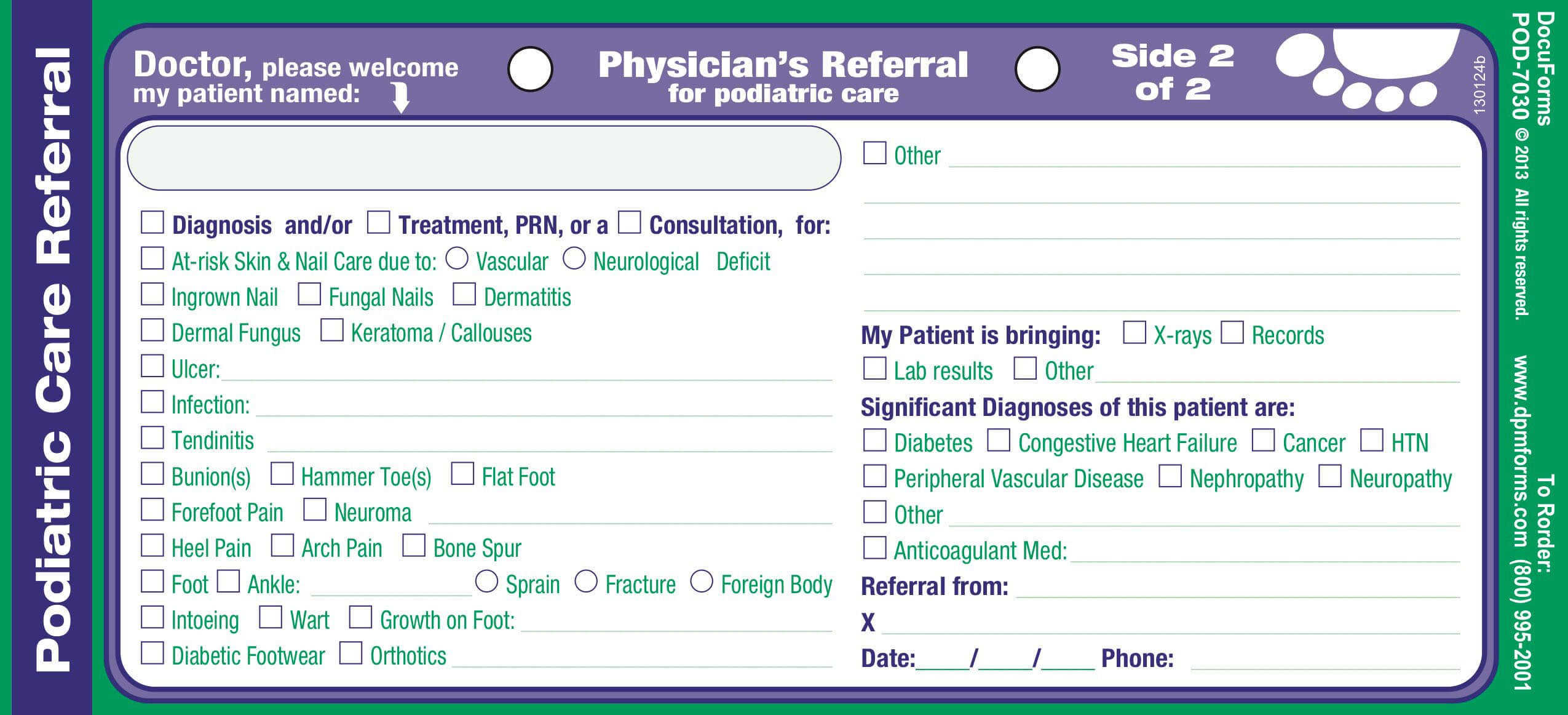 Pricing starts at $299 for 75 pads of 20 referral sheets.
Most podiatrists could use more patients. Our Podiatric Referral Pads, a.k.a. POD-7030,  will help you build your podiatric practice.
They'll help you become the first choice Podiatrist in your area by making it easy for local primary care physicians to refer their patients to you.
The advantage of these pads are that you make it easier for a referring physician to note for what they are referring their patient to you. But it also is a reminder of all the  pediatric conditions you are qualified to treat. Referring physicians may not think of you for many conditions and might refer a patient to another type of physician.
Use the POD-7030 Podiatric Referral Pads to become a key part of your networking strategy.